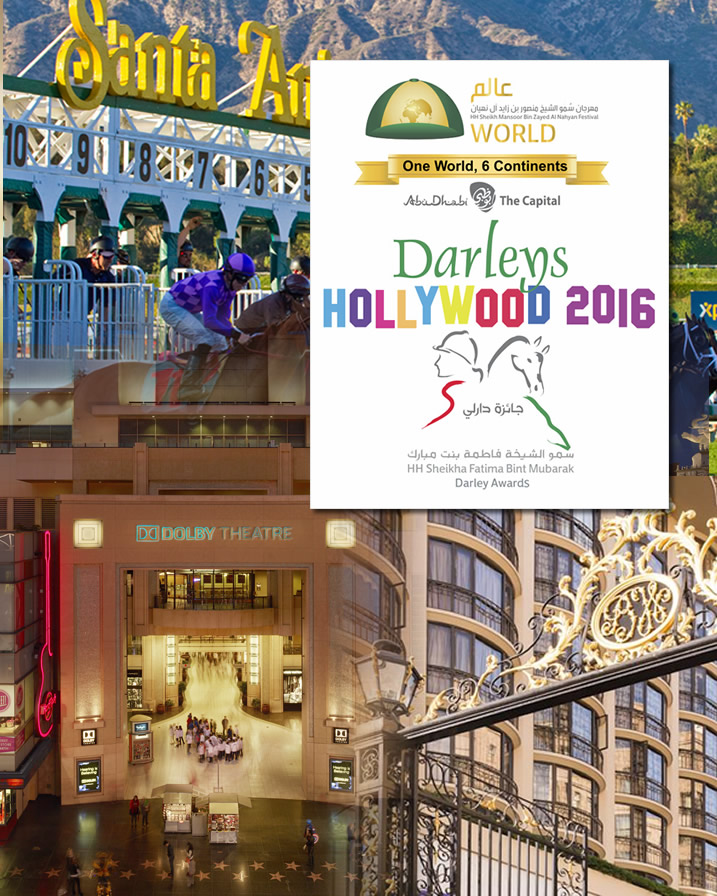 REPLAY OF DARLEY AWARDS, PRESENTED LIVE BY YAS TV
GRADE 1 ARABIAN HORSE RACING AT SANTA ANITA PARK
Saturday, April 2, 2016 saw newly crowned Horse of the Year Paddy's Day square off against 9 other rivals in the $100,000 HH Sheikha Fatima Bint Mubarak Darley Award S. (Gr.1) at beautiful Santa Anita Park. It was a thrilling race that saw a big upset when Thess Is Awesome and jockey Travis Wales went wire to wire in the 1 1/16 mile race setting a new track record with a time of 1:54.75.
Paddy's Day was second and Easter Man third.
Dismissed at 45 to 1, Thess Is Awesome (Dahess x In Awe, by Monarch AH) paid $94.20 to win. Lynn Ashby trains the 6-year-old stallion for owner Cre Run Farm who, with winning this race, gets an automatic entry into the 1.2 million Euro HH Sheikh Zayed bin Sultan al Nahyan Jewel Crown in Abu Dhabi in November.
(FOR REPLAY VIDEO OF RACES, PLEASE SEE THE CAL RACING WEBSITE)
GALA DINNER IN BEVERLY HILLS, CALIFORNIA
On Sunday evening, April 3rd, 2016, the HH Sheikha Fatima Bint Mubarak Annual Darley Awards Gala Dinner was held at the Beverly Wilshire Four Seasons Hotel.
The highlight of this fantastic evening was the annual Arabian Racing Cup Stallion Breeding Auction, which attracted international attention on the 8 coveted breedings. The bidding was exciting and a total of $47,000 was raised to support the Cup's racing and breeding incentive projects. The highest bid of the auction was $12,000 for a breeding to top stallion Munjiz.
Denise Gault, who stepped down as Chief Steward at this event, said "I am so very pleased and congratulate all the Darley Champions as well as the nominees! It was a super Darley Awards, an unbelieveably exciting Sheikha Fatima Darley Stake at Santa Anita, and a fabulous Darley Gala Banquet and Stallion Auction! As I pass the torch of Arabian Racing Cup Chief Steward to my fellow Steward, Michelle Morgan, I am excited for the "next generation" of the Cup, and wish her all the very best. I am remaining on the Board to work to help us achieve our goals together."
Incoming Chief Steward Michelle Morgan echoed Gault's feelings. "What a great weekend!" she said. "Congratulations to all the 2015 Darley winners on Friday night. Racing at beautiful Santa Anita race track was a perfect addition to the Darley weekend. The Gala dinner and Arabian Racing Cup Stallion Auction were huge successes. It was a perfect weekend, and we are already looking forward to the 2016 Darleys. Thank you to HH Sheikh Mansoor Bin Zayed Al Nahyan, HH Sheikha Fatima Bint Mubarak and Lara Sawaya for making this all possible."
BE READY TO COME TO DARLEYS 2017
Sign in to the Arabian Racing Cup News List for updates about next year's world class event.
Race purse of $100,000 plus $100,000 for the Jockeys Benevolent Fund
Sawaya said about the new race and prize money: "The HH Sheikha Fatima bint Mubarak Darley Award Grade 1 Stakes for Purebred Arabian horses at Santa Anita carries a total purse of $100,000 plus $100,000 for the jockeys' benevolent fund." Denise Gault commented: "The Darley Awards have developed tremendously after the partnership with the HH Sheikh Mansoor Festival and HH Sheikha Fatima bint Mubarak. Our partnership has blossomed into a huge global event thanks to the HH Sheikh Mansoor bin Zayed Global Arabian Horse Racing Festival."

Please check back here at the Cup website for details about next year's events as they become available.
Founded in 1983 by Dr. Sam Harrison, the Arabian Racing Cup's Darley Awards ceremony is the showcase of U.S. Arabian racing.
In 2012, the HH Sheikh Mansoor Bin Zayed Al Nahyan Global Arabian Flat Racing Festival and the Cup joined together to promote this prestigious event. The Darleys are headlined by the HH Sheikha Fatima Bint Mubarak Darley Awards recognizing international women in Arabian Horse Racing.
The Darley Awards is under the direction of Lara Sawaya, Executive Director of the Festival, and organized by Arabian Racing Cup, The HH Sheikh Mansoor Bin Zayed Al Nahyan Global Arabian Horse Flat Racing Festival is sustained by the Abu Dhabi Tourism and Culture Authority and coordinated by Abu Dhabi Sports Council with National Feed and Flour Production and Marketing CO. LLC as associate sponsors in cooperation with Emirates Racing Authority, IFAHR, Emirates Arabian Horse Society, Ministry of Foreign Affairs, General Authority of Youth and Sports Welfare with The National Archives as the official partner and Emirates airline as the official carriers and sponsored by Bloom, Petromal, Rise General Trading Co. LLC, Hayatna,Abu Dhabi National Exhibition Centre (ADNEC), Al Awani General Enterprises, Kabale, Al Wathba Centre, the UAE's General Women's Union, The Supreme Council for Motherhood and Childhood, the HH Sheikha Fatima Bint Mubarak Ladies Sports Academy, Abu Dhabi International Hunting and Equestrian Exhibition 2016, Dr. Nader Saab Switzerland, Al Wathba Centre, Abu Dhabi Equestrian Club, Eastern Mangroves Suites-Abu Dhabi by Jannah, Yas Channel, Omeir Travels, Racing Post, Paris Turf and Laboratories Fadia Karam Cosmetics.