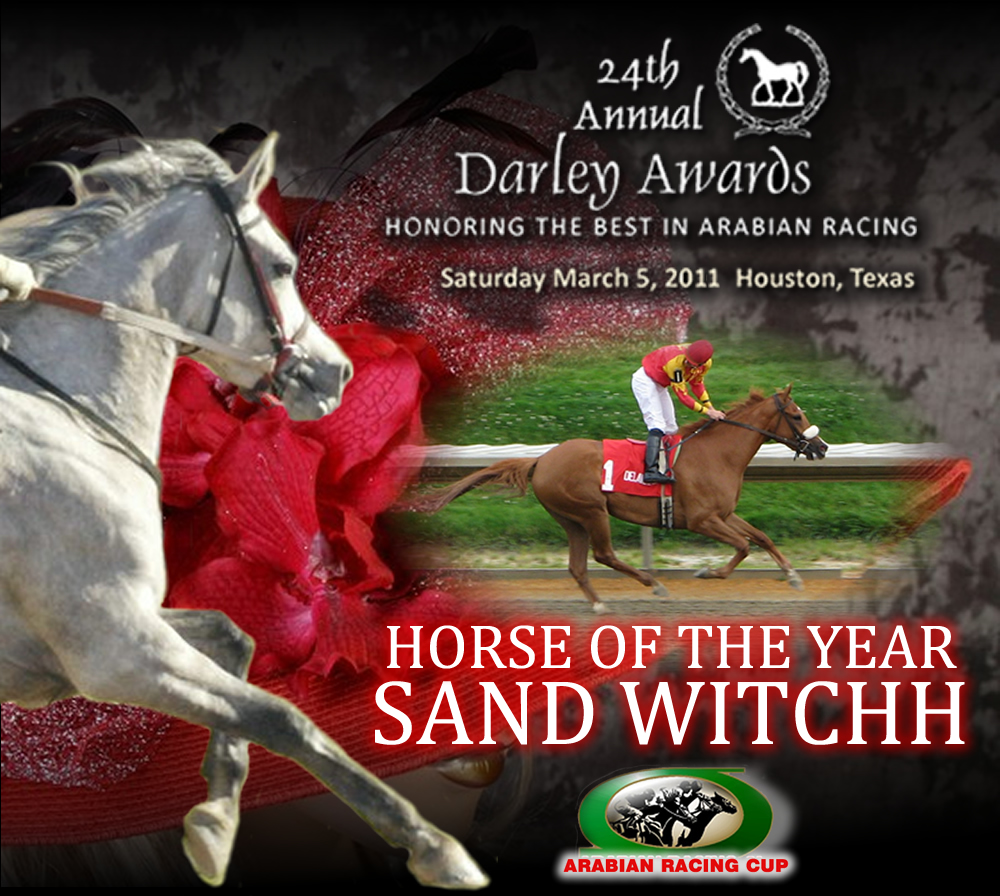 Darley Champions celebration weekend in Houston with Grade 2 Stakes entertainment, SAND WITCHH named Horse of the Year for 2nd Year in a Row
Houston, TX / USA -  March 5, 2011 ~ Darley Weekend began on Friday, March 4, 2011 with a 5:00pm Welcome Party at the Hilton Houston North.

The "Hats Off to Arabian Racing" party with cocktails and appetizers was sponsored by Texas Arabian Breeders Association. At 6:45 pm, the Texas Six Shooter Grade 2 and Texas Yellow Rose Grade 2 Stakes went off at Sam Houston Race Park.

Saturday morning at the Hilton, the Arabian Jockey Club sponsored a Brainstorming Breakfast, and later at 5pm the cocktail hour began in the Donatello Ballroom. Dinner was served at 6 and followed by the silent auction. The Darley Awards Ceremony commenced at 8pm with entertainment afterward. Nancy Blewett was at the helm directing the event and managing the silent auction which offered vacations, art and more. In addition to the weekend activities, an online Stallion Auction was coordinated and run by TABA for the benefit of Arabian Racing Cup and Darleys. This stallion auction was by far the largest in our history and attracted 39 stallions. The Arabian Racing Cup thanks everyone for making the 2012 Darleys another success.