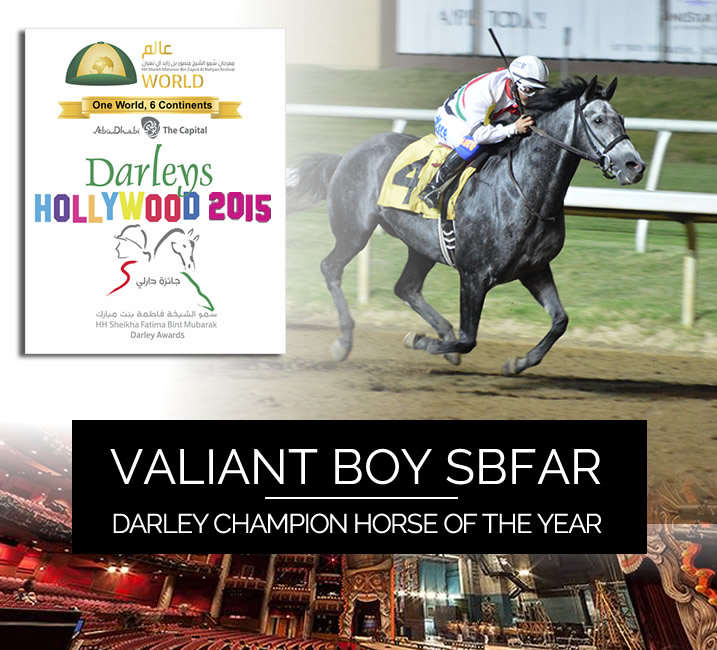 April 6, 2015, Los Angeles, CA - Valiant Boy SBFAR topped off an undefeated season in 2014 by winning his second Horse of The Year trophy (he also won it in 2012) as well as one for Older Horse, at the 28th annual Darley Awards sponsored by the HH Sheikh Mansoor Bin Zayed Al Nahyan Global Arabian Horse Flat Racing Festival and held at the Dolby Theatre.
Racing in the U.S. for Guy Neivens and trained by Elizabeth Merryman, the handsome grey seven-year old won 3 graded races (2 grade 1), set a new track record and earned almost $129,000 in 2014. He was bred by HH Sheikh Tahnoon bin Zayed and imported from France. Racing manager Sharon Clark graciously accepted the golden statute remarking at what an honor it was to be around the horse.
In the other awards, Lazur Hess claimed the 3-Year-Old Colt/Geldings for owner Mark Ashby and Love To Dance took the 3-Year-Old Filly award for owner/trainer Mark Powell. Rosebrook Farm LLC's RB Champagne Taste was named Champion 4-Year-Old Colt and Cre Run Enterprises LLC's Our Princess won for 4-Year-Old Filly. Ms Dixie, owned by Quarter Moon Ranch, won her second consecutive Older Mare statue.
Leading jockey Kristen Swan was tremendously excited to win Champion Jockey. "Arabians are so honest. I love them," she said. Swan regularly rode for Lynn Ashby who won for Outstanding Trainer – the record seventh time she has claimed this title, but the first since 2002. Dianne K. Waldron, who commented that Arabian breeding and racing was her passion, earned her third Darley for Outstanding Breeder, and Valiant Boy SBFAR's owner, Guy Neivens, was named Outstanding Owner.
In addition to the Darley trophies, the HH Sheikha Fatima Bint Mubarak Darley Awards were also presented. The following international individuals were recognized. The Cup was extremely proud to have Chief Steward Denise Gault recognized with the HH Sheikha Fatima Bint Mubarak Darley Awards Lifetime Achievement Award in recognition of her many years of contributing to Arabian racing and her tireless promotion of the industry.
HH Sheikha Fatima Bint Mubarak International Darley Award Winners
(In 2014, two more categories were added: Best Endurance Female Rider and
Special Distinguished Award)
Name/Country
Award
Nadine Frampton, Australia
Best Photographer
Catherine de Robert Labarthe, France

Best Breeder
Deniz Kurtel, Turkey
Best Owner
Karin van den Bos, Netherlands
Best Trainer
Stefania Gandola, United Kingdom
Best Jockey
Youjiza, Moracco
Best 3-Year-Old Filly
Lorra, France
Best 4-Year-Old Filly
Djanka Des Forges, France
Best Mare
Fanny Hubard-Salmon, France
Best TV Presenter
Denise Hearst, United States
Best Journalist
Marijke Visser, Netherlands
Best Endurance Rider
Denise Gault, USA
Best Lifetime Achievement
The next evening, the 2015 HH Sheikha Fatima Bint Mubarak Annual Darley Awards Gala Dinner was held at the Beverly Wilshire Four Seasons Hotel. The highlight of this fantastic evening was the 22nd annual Arabian Racing Cup Stallion Breeding Auction, which attracted international attention on the 10 coveted breedings. The bidding was exciting and a total of $71,800 was raised to support the Cup's racing and breeding incentive projects. The highest bid of the auction was $40,000 for a breeding to top stallion Munjiz, bought by Lara Sawaya.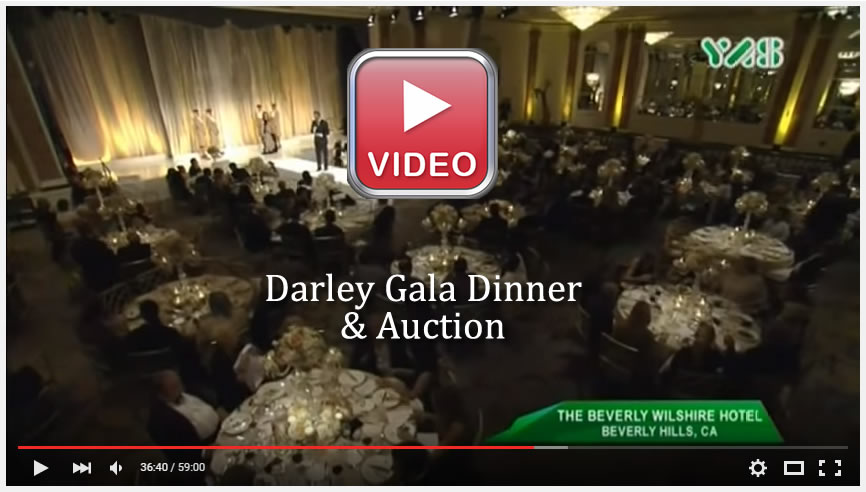 Denise Gault, Chief Steward, remarked that all of the stewards were "excited to continue the Arabian Racing Cup tradition and we are once again honored by our main sponsor, the HH Sheikh Mansoor Bin Zayed Al Nahyan Global Arabian Horse Flat Racing Festival for their participation in this most prestigious event."
Founded in 1983 by Dr. Sam Harrison, the Arabian Racing Cup (ARC)'s Darley Awards ceremony has become the showcase of U.S. Arabian racing. In 2012, the HH Sheikh Mansoor Bin Zayed Al Nahyan Global Arabian Flat Racing Festival and ARC joined together to promote this prestigious event. Supported by an extensive list of sponsors, the Darley Awards is under the direction of Lara Sawaya, Executive Director of the Festival, and organized by Arabian Racing Cup, the Abu Dhabi Tourism & Culture Authority, coordinated by Abu Dhabi Sports Council, in association with International Federation of Arabian Horse Racing Authorities, Emirates RacingAuthority, Emirates Arabian Horse Society, and supported by General Authority of Youth & Sports Welfare. Emirates Airlines is the official carrier.